The Dismissal of the Whitlam Government on November 11, 1975 was the most dramatic political event in the history of Australia's Federation.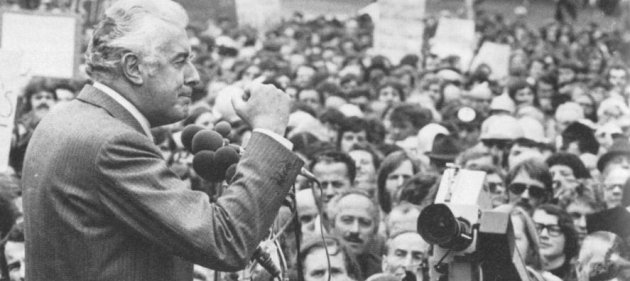 Edward Gough Whitlam's government was elected on December 2, 1972 and was the first Labor administration in 23 years. Elected in a national mood of hope and anticipation, the government was steeped in controversy from the outset. Re-elected eighteen months later, it was gone in just under three years. It was a government that initiated unparalleled reform but was frustrated by the Senate, dismissed by the Governor-General, and then massively repudiated by the electorate.
The story of the Whitlam years is the story of a political system tested to its limits. It remains a story of relevance to contemporary politics.
WHAT HAPPENED?
This section provides an overview of what happened on November 11, 1975 and why it remains a significant event in Australian political history. more…
CHRONOLOGY OF EVENTS: OCTOBER-NOVEMBER 1975
The years 1972-1975 were a whirlwind of activity, controversy and change, culminating in the dramatic events of October 1975 when the coalition parties in the Senate used their numbers to delay passage of the government's Supply Bills. A three-week constitutional impasse followed, culminating in Whitlam's dismissal by the Governor-General, Sir John Kerr, on November 11. more…
BACKGROUND TO 1972
The Whitlam Government was the first Labor government for 23 years, since the defeat of Ben Chifley in 1949. It was elected at a time of growing disillusionment with the Vietnam War, a concern about Australia's place in the world and great social change. more…
DISMISSAL DOCUMENTS
They're all here: the letter of dismissal from Sir John Kerr, the advice tendered by the Chief Justice of the High Court, Sir Garfield Barwick, the proclamation dissolving Parliament, the letter from the Queen's Secretary, and others. more…
GOUGH WHITLAM
Whitlam was born in Melbourne in 1916. He grew up in Canberra and entered Parliament in 1952, becoming deputy leader of the ALP in 1961 and leader in 1967. He won a 7% swing to his party in the 1969 election, rescuing it from the electoral disaster of 1966. Whitlam won office in 1972, was re-elected in 1974, dismissed and defeated in 1975, and rejected by the electorate again in 1977. He resigned the ALP leadership after the 1977 election and left parliament in 1978. In retirement, his energy and commitment to causes continued unabated. more…
MALCOLM FRASER
The personality of John Malcolm Fraser is crucial to an understanding of the Dismissal. Fraser's political determination and his dealings with Sir John Kerr had a direct bearing on the course of events. more…
SIR JOHN KERR
The man appointed by Whitlam to the position of Governor-General in 1974 is variously portrayed as a man of principle, a deceiver, an insecure man desperate to make his mark on history, the person who resolved a difficult situation not of his making by remitting it to the people, and a drunk. more…
SIR GARFIELD BARWICK
Barwick was Chief Justice of the High Court during the Whitlam years. He provided formal advice to the Governor-General on November 10, supporting Kerr's decision to dismiss Whitlam. Forty years later, it was revealed that High Court Justice Sir Anthony Mason played an even more significant role than Barwick did. more…
CONSTITUTIONAL & POLITICAL ISSUES: THE KEY QUESTIONS
The Dismissal raised a number of important constitutional, parliamentary and political issues, most of which remain unresolved to this day. Should the Senate have the right to block money bills? How should a government respond when this happens? Should the Governor-General intervene in conflicts between the houses? When should the Governor-General intervene? more…
THE WHITLAM GOVERNMENTS
Whitlam's 1972 election was the result of a program of party reform, policy development and political salesmanship. The 'Program' he presented to the people in 1972 still stands as the most definitive statement of policies ever proposed at an election. This section also contains information on the Whitlam ministers. more…
THE LOANS AFFAIR
The Loans Affair saga caused enormous damage to the credibility and reputation of the Whitlam government in 1975. It led to the dismissal of Dr. Jim Cairns and Rex Connor, and was pivotal to the decision of the Opposition to block the Budget in October 1975. more…
WHITLAM SPEECHES
Gough Whitlam died on October 21, 2014, at the age of 98. Even into his 90s, he was an active contributor to the political debates in Australia. Alone among all of the nation's former leaders, he inspires a full measure of devotion from his supporters. more…
NEWSPAPER CLIPPINGS
A growing collection of scanned newspapers clippings from the Whitlam era. more…
DISMISSAL SOUND ARCHIVE
A rare collection of audio files from the Whitlam era, including recordings from the House of Representatives shortly after the Dismissal, the full version of the famous "Kerr's Cur" speech by Whitlam, the policy speeches given by Whitlam and Fraser, and much more. more…
DISMISSAL IMAGES
A small collection of pictures from the Whitlam era, including photographs taken on November 11, 1975. more…