Gough Whitlam recalled the House of Representatives from its winter recess for a one-day sitting to debate the Overseas Loans Affair.
The sitting took place on July 9, 1975, two days before Whitlam's 59th birthday.
The morning newspapers around the country on July 9 were uniformly bad for the government. In South Australia, the Labor Premier Don Dunstan, facing an election three days later, attacked the Whitlam government. Dunstan suffered a 5.3% two-party swing, lost three seats and survived by forming a minority government.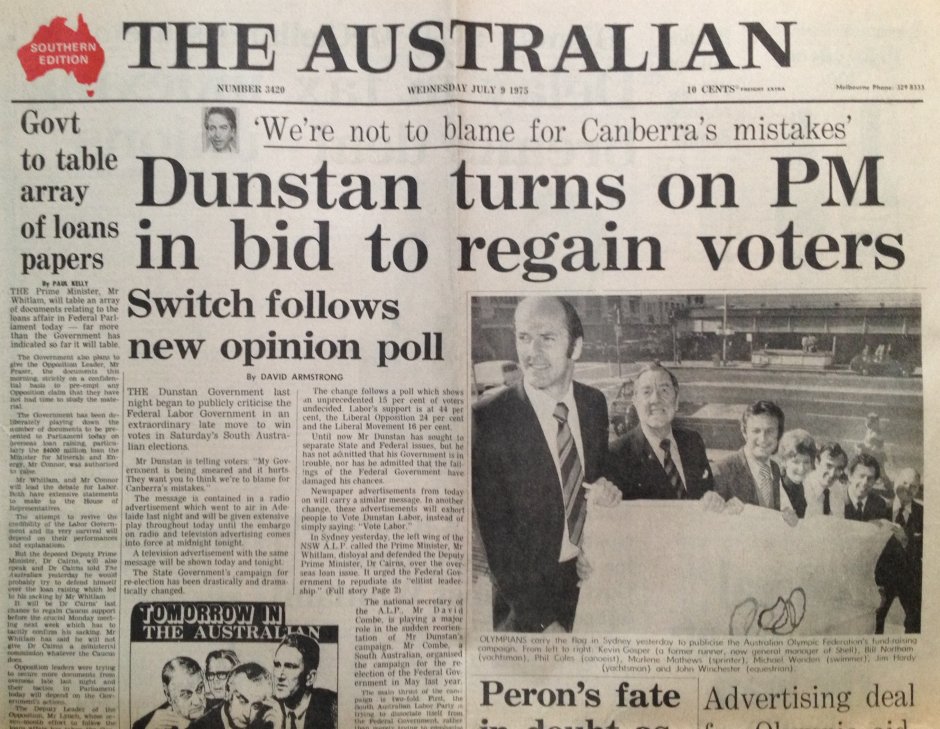 Amidst this tense atmosphere, the sitting of the House began at 2.30pm and continued until the adjournment at 10.09pm.
Proceedings began with the announcement of the return of the writ for the Bass by-election. Following the ousting of Lance Barnard as Deputy Prime Minister, he was appointed Ambassador to Sweden, Norway and Finland, a by-election was held to replace him in his Tasmanian electorate. A 14.3% swing to the Liberals saw Labor lose the seat with just 39.7% of the two-party-preferred vote. Malcolm Fraser was entitled to believe he could now win a general election.
The sitting then offered condolences for Queensland ALP Senate Bert Milliner, who had died on June 30. Milliner's death allowed Queensland Premier Joh Bjelke-Petersen to further alter the balance of power in the Senate by the appointment of a non-Labor replacement, Albert Patrick Field. Earlier in the year, following the appointment of the Attorney-General, Senator Lionel Murphy, to the High Court, the NSW government of Premier Tom Lewis had also refused to appoint a Labor replacement.
The special one-day sitting thus brought together separate events that would soon result in the blocking of Supply and the dismissal of the government.
In his speech on the Loans Affair, Whitlam tabled the loans documents and sought to defend the government's position.
During an emotional defence of his behaviour, the Minister for Minerals and Energy, Rex Connor, proclaimed the Whitlam Government's defence of Australia's mineral resources and called upon the words of "an old Australian poem":
Give me men to match my mountains,
Give me men to match my plains,
Men with freedom in their vision,
And creation in their brains.
It appears that the poem is actually a bastardised version of The Coming American, by Sam Walter Foss:
Bring me men to match my mountains,
Bring me men to match my plains,
Men with empires in their purpose,
And new eras in their brains.
The discussion of the Loans Affair continued until late into the evening. The full Hansard of the day's proceedings is shown below.
Listen to Whitlam's speech opening the sitting (text below):

Listen to Opposition Leader Malcolm Fraser's speech:

Listen to Minerals and Energy Minister Rex Connor's speech: