In 1966, Aboriginal stockmen went on strike at Wave Hill station in the Northern Territory.
Under the leadership of a Gurindji man, Vincent Lingiari, the strikers set up camp at Wattie Creek. Over time, the industrial dispute with the Vestey family turned into a demand for land rights.
Nine years later, in 1975, the Whitlam Government resolved the dispute and title to the land was granted to the Gurindji people.
During the ceremony to grant the land title, Whitlam symbolically poured sand into Lingiari's hand.
In 2001 Lingiari's son poured dirt back into the hands of former Prime Minister Gough Whitlam in a poignant reversal of the famous ceremony in which his father took symbolic possession of Gurindji land.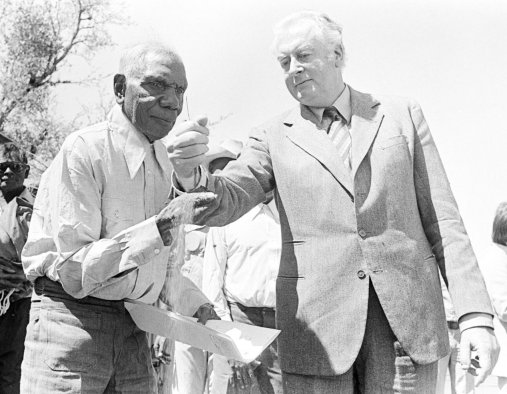 In 2006, Martin Flanagan wrote of the commemoration ceremony:
It's at Daguragu, about six or seven kilometres from Kalkaringi. It looks plain enough. The old nut tree under which they erected the sign made for them by writer Frank Hardy reading "Gurindji Mining Lease and Cattle Station" still stands. About 10 metres away in the red dirt is a stone marking the place where nine years after the strike Gough Whitlam, acting very consciously in his capacity as the prime minister of Australia, poured sand into Vincent Lingiari's hand to signify the passing of ownership in the place back to the Gurindji.

Whitlam made an appearance at the commemoration via video link-up. Lingiari is a difficult name to pronounce the Aboriginal way. Whitlam sang it, a low deep note that resonated with authority. He solemnly repeated some of the statements he made that day. Lingiari's reply, when translated, is 201 words long or short. What I noted when I read it was that the word ceremony or ceremonial appears five times. He was telling the Gurindji that what happened that day was part of their sacred law. Then he turned to Whitlam and said, "we be mates now". It is a moment of natural grace and dignity without repeat in Australian history.
This is the speech given by Gough Whitlam at the Gurindji Land Ceremony.

Vincent Lingiari and men and women of the Gurindji people.

On this great day, I, Prime Minister of Australia, speak to you on behalf of the Australian people-all those who honour and love this land we live in.

For them I want to say to you:

First, that we congratulate you and those who shared your struggle, on the victory you have achieved nine years after you walked off Wave Hill Station in protest.

I want to acknowledge that we Australians have still much to do to redress the injustice and oppression that has for so long been the loss of Black Australians.

I want to promise you that this act of restitution which we perform today will not stand alone-your fight was not for yourselves alone and we are determined that Aboriginal Australians everywhere will be helped by it.

I want to promise that, through their Government, the people of Australia will help you in your plans to use this land fruitfully for the Gurindji.

And I want to give back to you formally in Aboriginal and Australian Law ownership of this land of your fathers.

Vincent Lingiari, I solemnly hand to you these deeds as proof, in Australian law, that these lands belong to the Gurindji people and I put into your hands part of the earth itself as a sign that this land will be the possession of you and your children forever.