On April 28, 1978, four months after giving up the ALP leadership and three months before resigning from the Parliament, Whitlam delivered the Inaugural T.J. Ryan Memorial Lecture at the University of Queensland.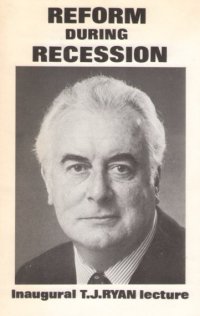 The lecture was hosted by the University's ALP Club. They published the speech in booklet form, a PDF copy of which can be downloaded below.
Whitlam was introduced by Dr. Denis Murphy, an academic at the University of Queensland. Murphy was a Labor historian and biographer. In 1975, he published a biography of T.J. Ryan. Elected as the member for Stafford in the Queensland Legislative Assembly in 1983, Murphy died of cancer in 1984, at age 47. He died without ever making a parliamentary speech.
Thomas Joseph Ryan's life had also been cut short, at the age of 45, in 1921. Elected as the Labor member for Barcoo in the Queensland Legislative Assembly in 1909, he became leader of the ALP in 1912 and Premier of Queensland in 1915. He was re-elected in 1918 and entered the Commonwealth Parliament in 1919 as the member for West Sydney, following an unprecedented resolution of a Special Federal Conference of the party requesting him to nominate.
Ryan was widely expected to assume the ALP leadership in place of Frank Tudor but he died less than two years after winning West Sydney. Tudor himself died a few months later and the leadership passed to Matthew Charlton.
Ryan was regarded as a capable reforming politician, with the ability to communicate with people from all walks of life. As Premier, he was responsible for the abolition of Queensland's Legislative Council.
Whitlam's speech is noteworthy because he discusses the ALP's reforming mission and the means of implementing the party's policies. He does this in the context of his own government's performance between 1972 and 1975, as well as discussing the future of the party under its new leader, Bill Hayden. Whitlam also makes a strong call for reform or intervention in the Queensland ALP. He bluntly assesses the quality of ALP candidates and the role played by factions inside the party.
The recording of Whitlam's speech is taken from a cassette tape produced by the Queensland ALP Club.
Listen to Dr. Denis Murphy's introduction (9m)

Listen to Whitlam's speech (75m)

Listen to the entire proceedings (83m)

Read Whitlam's Speech
The speech is published in the E-Collection of the Whitlam Institute.

The cover of the booklet produced by the Queensland University ALP Club of Whitlam's T.J. Ryan Memorial Lecture.
The cover of the audio-cassette tape of Whitlam's speech, produced by the University of Queensland ALP Club.
The cover of Denis Murphy's biography of T.J. Ryan, published in 1975 by the University of Queensland Press.