Dr. Jim Cairns, Treasurer and Deputy Prime Minister in the Whitlam Government, has died, aged 89, at his home in Melbourne.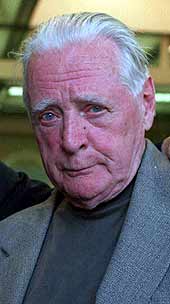 A former policeman, Cairns was a lecturer in Economics before entering Parliament as the Labor member for Yarra in 1955. He spent 17 years in Opposition before becoming a minister in the Whitlam Government in December 1972.
Cairns is best remembered for his opposition to Australia's involvement in the Vietnam War. In 1970 he organised and led a massive and peaceful Moratorium protest against the war.
He became Minister for Overseas Trade in the Whitlam Government's first term. He replaced Lance Barnard as Deputy Prime Minister following the government's re-election in 1974. His political influence rose further when he replaced Frank Crean, father of the current Labor leader, as Treasurer.
Cairns' finest moment in government came with his handling of the destruction of Darwin by Cyclone Tracey on Christmas Day 1974.
The man who once challenged Whitlam for the Labor leadership – demanding to know "whose party is this, his or ours?" – was destroyed politically in 1975. He was dismissed as Treasurer following revelations that he had misled Parliament over allegations that he authorised George Harris, a former President of the Cartlon Football Club, to seek overseas loans. The Loans Affair destroyed the credibility of the Whitlam government and led to the decision by the coalition parties to block Supply, resulting in the dismissal of the Whitlam government on November 11, 1975.
Cairns was also embroiled in controversy over his relationship with Junie Morosi, his office co-ordinator. An infamous newspaper front page once quoted Cairns as professing "a kind of love" for Morosi.
Cairns retired from Parliament in 1977 and devoted the next 26 years to writing books. He was often seen at weekend markets around Melbourne selling his self-published works.
In his biography of Cairns, published in 2002, Paul Strangio wrote:
"Probably more than anyone else in the post-war era, Cairns acted as a conscience within the ALP for the view that the party's raison d'etre was to offer an alternative to the marketplace and its value of competitition, individualism and acquisitiveness.

In this respect, his gradual disillusionment with the Labor Party as an agent of social change was not simply a product of the erosion of his faith in state collectivism.

That disillusionment also occurred within the context of Labor's post-war retreat from a commitment to substantive intervention in the market.

Indeed, Cairns' estrangement from the ALP may be read as a reflection of the dulling of any residual anti-capitalist sentiment within the party."
Profile of James Ford Cairns
Born October 4, 1914, Carlton
Educated at State Schools
Melbourne University (MComm)
Oxford University (PhD)
Police Officer
University Lecturer
1955-69 ALP MHR for Yarra
1969-77 ALP MHR for Lalor
Minister for Overseas Trade (December 19, 1972 – December 11, 1974)
Minister for Secondary Industry (December 19, 1972 – October 9, 1973)
Treasurer (December 11, 1974 – June 6, 1975)
Deputy Prime Minister (June 12, 1974 – July 2, 1975)
Minister for Environment (June 6, 1975 – July 2, 1975)