Joan Child, the first female Labor member of the House of Representatives, and the first female Speaker, has died. She was 91.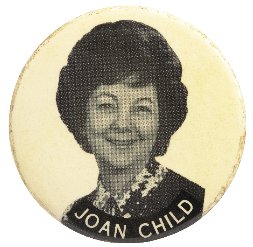 Child was elected to the Melbourne electorate of Henty, centred around Oakleigh, in 1974. She had unsuccessfully contested the electorate in 1972.
She was defeated at the 1975 election and again in 1977. She returned to the House in 1980, securing re-election to Henty in 1983, 1984 and 1987.
Child became the first woman Speaker of the House of Representatives in February 1986. She relinquished the position in August 1989, ahead of her retirement at the 1990 election.
The electorate of Henty was abolished in 1990. Parts of the old Henty are now in Chisholm, currently held by the second female Speaker, Anna Burke. Other areas are in Hotham and Higgins.
Shown below is an election leaflet Joan Child used in her unsuccessful 1972 campaign for Henty, and her 1974 and 1980 how-to-vote cards:
1972 Leaflet:
1974 How-To-Vote Card:
1974 How-To-Vote Card – Referendums:
1980 How-To-Vote Card: