Posts published in "Whitlam Government"
The Whitlam Labor Government faced the electorate on May 18, 1974, just 18 months after taking office, in a double dissolution election.
Whitlam delivered his policy speech at the Blacktown Civic Centre, calling for a "fair go" for his government and a chance to carry out "the program".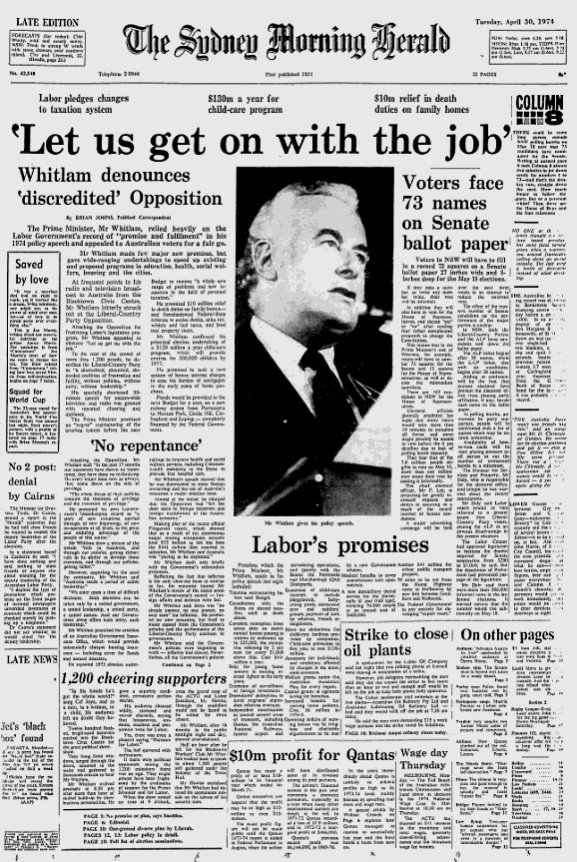 Listen to Whitlam's Policy Speech – 8.30pm April 29, 1974 (30m)

Listen to ABC Radio news, reporting the speech – 10pm, April 29, 1974 (4m)

Listen to ABC Radio's AM report on the policy speech – 8am, April 30, 1974 (7m)

Transcript of the Policy Speech delivered by the Prime Minister of Australia, Gough Whitlam, at the Blacktown Civic Centre, NSW, on April 29, 1974.

Men and Women of Australia,

Just 17 months ago, I stood here, and from this place and from this city I asked you to choose for Australia a new team, a new program, a new drive for equality of opportunities. You gave us a clear mandate to go ahead with our program for the next 3 years. For 17 months we have driven ourselves to carry out your mandate, to carry out the program I placed before you. Now the government you elected for 3 years has been interrupted in mid-career. Our program has been brought to a halt in mid-stream.