John Malcolm Fraser entered the House of Representatives as the member for Wannon in 1955.
Twenty years later, he successfully challenged the Liberal Party's leader, Bill Snedden, and assumed the leadership at a time when the Whitlam government was embroiled in the Overseas Loans Affair.
Speaking at a press conference following his election, Fraser said he believed that governments were entitled to expect that they would be able to govern for three years, "unless quite extraordinary and reprehensible circumstances" intervened.
His comments were widely interpreted as a pledge not to block Supply, as can be seen from the front page of the Melbourne Sun on March 22, 1975: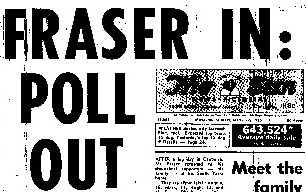 Significantly, whilst Fraser said he wanted to get all talk of elections out of the way, he also said that if the Opposition were to make a decision to block Supply, he would want to do it in such a way that "Mr. Whitlam would wake up one morning and find that he had been caught with his trousers well and truly down".
Archived Posts