John Robert Kerr was Governor-General of Australia from 1974 until 1977.

He was born in Balmain, in Sydney on September 14, 1914. He was admitted to the NSW Bar in 1938, after attending Fort Street High School and Sydney University.
Kerr became a King's Counsel in 1953. In his early years as a lawyer he had a large industrial practice and developed close links with Labor Party figures. He resigned from the ALP in 1956.
In 1966, Kerr was appointed a Judge of the Commonwealth Industrial Court. He came to public attention in 1969, when he jailed Clarrie O'Shea, the Victorian Secretary of the Tramways Unions, for contempt of court.
Kerr was appointed Chief Justice of New South Wales in 1972 by the Liberal government of Sir Robert Askin. In August 1973, he was approached by Prime Minister Whitlam about appointment as Governor-General. The appointment was announced on February 27, 1974 and he took up the position on July 11, 1974, coincidentally also Whitlam's birthday.
Following the Dismissal, public reaction to Kerr was generally hostile. He announced his decision to retire at the end of 1977.
On November 1, 1977, weeks before his resignation, Kerr delivered a drunken performance at the Melbourne Cup.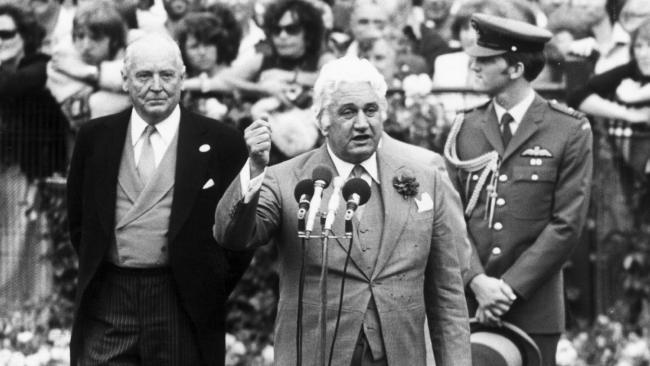 Early the following year, the Fraser government announced that Kerr would be appointed Ambassador to UNESCO, but hostile public reaction caused Kerr to relinquish the appointment.
Kerr lived out most of the rest of his life in England. He died on March 24, 1991, at the age of 76.
Archived Posts on Sir John Kerr